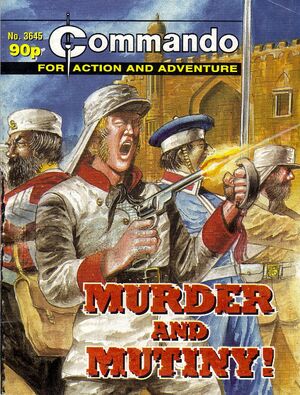 Back Cover Summary
Edit
The chilling rumours of murder and mutiny across the breadth of British-ruled India had proved to be tragically true. Native soldiers had turned against their officers, and there had been much bloodshed.
It was no time for the faint-hearted - and Jack Bannerman was said to be just that. He was arrogant, lazy and seemed to be living on the glory won by his heroic father and brother.
Whether he could finally prove all the doubters wrong would become clear very, very soon . . .
Creators
Edit
Story by
Art and cover by Keith Page
Publishing History
Edit
First published as no 3645 in August 2003.
New story. Not previously published.
Inside cover feature Test Flights, Experimental Aircraft: Vought F6U-1 "Pirate"
Inside Back cover feature, The Commando File Part 15 - 1980.
Ad blocker interference detected!
Wikia is a free-to-use site that makes money from advertising. We have a modified experience for viewers using ad blockers

Wikia is not accessible if you've made further modifications. Remove the custom ad blocker rule(s) and the page will load as expected.