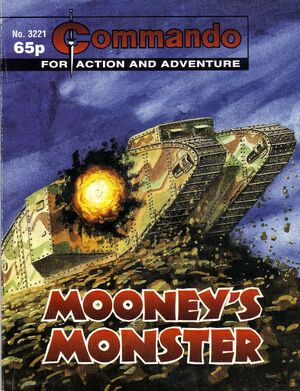 Back Cover Summary
Edit
Sergeant Bart Mooney thought a lot of his Mark One tank. His mate had called in "Mooney's Monster" and the name had stuck because it was a monster. At 28,450kg with a crew of eight, two six-pounder guns and five machine guns, it couldn't be anything else.
But look what it would soon be up against - the German A7V battle tank. It had a crew of eighteen, weighed in at 29,900kg and carried a heavy 5.7cm gun plus seven Maxim machine guns.
The stage was set for a unique clash of these First World War metal giants!
Story by
Art and cover by Keith Page
Publishing History
Edit
First published as no 3221 in March 1999.
Inside front cover feature - Whirly Birds - Westland 30 (TT300) Britain 1979. Inside rear cover feature - Light Vehicles - Pink Panther Land Rover.
Ad blocker interference detected!
Wikia is a free-to-use site that makes money from advertising. We have a modified experience for viewers using ad blockers

Wikia is not accessible if you've made further modifications. Remove the custom ad blocker rule(s) and the page will load as expected.