Back Cover Summary
Edit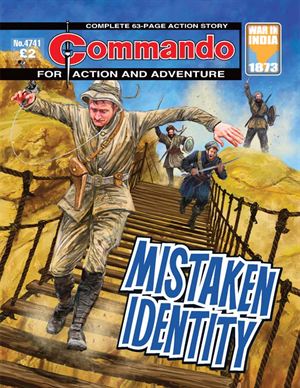 Second-Lieutenant Ashley Windsor was a good-natured type but a bit naive and impulsive. Serving with an infantry regiment in India, he was the butt of many a joke amongst his fellow officers - especially when he hinted that he was a (very) distant relative to Queen Victoria.
This silly remark set off an extraordinary chain of events, including a small war against a scheming local tribal leader - who thought he would end up rich if he could capture a member of the British Royal Family!
Creators
Edit
Publishing History
Edit
First Published as no 4741 in September 2014.
War in India 1873 Series.
Ad blocker interference detected!
Wikia is a free-to-use site that makes money from advertising. We have a modified experience for viewers using ad blockers

Wikia is not accessible if you've made further modifications. Remove the custom ad blocker rule(s) and the page will load as expected.