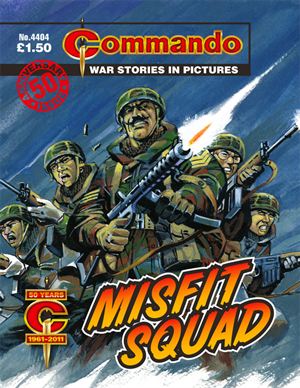 Back Cover Summary
Edit
Dave, Brian, Pete and Sid were undoubtedly the worst soldiers their C.O. had ever come across. He doubted they would ever get through their basic training. But Sergeant Rod Black thought differently, he could see something in the four that no one else could

And one night in June some 50 years ago he and his misfit squad had the chance to prove him right... or wrong!
Story by - Mac Macdonald
Art and cover by - Carlos Pino
Publishing History
Edit
First published as no 4404 in July 2011.
50th Anniversary Issue.
Ad blocker interference detected!
Wikia is a free-to-use site that makes money from advertising. We have a modified experience for viewers using ad blockers

Wikia is not accessible if you've made further modifications. Remove the custom ad blocker rule(s) and the page will load as expected.