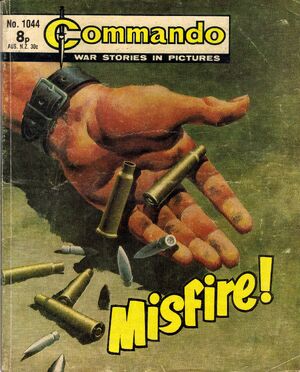 Back Cover Summary
Edit
Quickly, expertly, Sergeant Barry Rockford snapped the bullets out of the cartridge cases. Yes, his suspicions had been only too true - every one had been got at. Every one had only enough explosive left to make a bang - not enough to send a bullet to its target. And that target was a Jerry sniper who was even now waiting for Barry's next move.
It looked as if Barry had gone out alone to certain death...
Story by
Art by
Cover by Ian Kennedy
Publishing History
Edit
First published as no 1044 in July 1976.
Inside front cover feature - Fighting Squadrons of the R.A.F. - 101 Squadron. Inside rear cover feature - Know Your Medals no 8 - The British Empire Medal.
Ad blocker interference detected!
Wikia is a free-to-use site that makes money from advertising. We have a modified experience for viewers using ad blockers

Wikia is not accessible if you've made further modifications. Remove the custom ad blocker rule(s) and the page will load as expected.