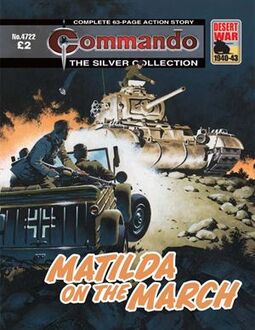 Back Cover Summary
Edit
Alone, cut off from the rest of her squadron, the Matilda trundled on. She had survived the dangerous hours of daylight, but now the desert night had fallen. And, in the darkness, who could tell friend from foe?
Story by - Lomas
Art by - John Ridgway
Cover - Ian Kennedy
Publishing History
Edit
First published as no 933 in May 1975. Reprinted as no 2259 in March 1989. This edition published as no 4722 in July 2014. 
Part of "The Silver Collection" series.
Ad blocker interference detected!
Wikia is a free-to-use site that makes money from advertising. We have a modified experience for viewers using ad blockers

Wikia is not accessible if you've made further modifications. Remove the custom ad blocker rule(s) and the page will load as expected.