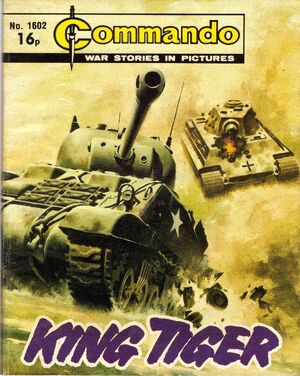 Back Cover Summary
Edit
Weighing almost seventy tons, the King Tiger was one of the heaviest tanks the Germans ever built. It was also one of their most thickly armoured and powerfully armed. To its commander Leutnant Klaus Schmidt, it was simply the best fighting machine he'd ever had.
Lieutenant George Corby and the crew of his Sherman Firefly were also impressed by that enemy tank, but they didn't want to hang around to get a closer look!
Story by
Art by
Cover by Ian Kennedy
Publishing History
Edit
First published as no 1602 in April 1982. Republished as no 2915 in January 1996.
Inside front cover - Stars of Speedway - Wayne Gardner
Inside back cover- Stars of Golf - Jack Nicklaus
Ad blocker interference detected!
Wikia is a free-to-use site that makes money from advertising. We have a modified experience for viewers using ad blockers

Wikia is not accessible if you've made further modifications. Remove the custom ad blocker rule(s) and the page will load as expected.