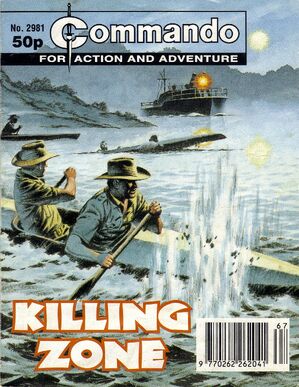 Back Cover Summary
Edit
Before the rampaging Japs invaded New Guinea, Jim Hardy's tough task had been to patrol one region to keep the peace. He could not hold out against the Japs, though, and had escaped to fight another day.
Now his old patch had become a killing zone, an even more dangerous place than it had been before, but still Jim was ready to go back there on a deadly, dangerous mission . . .
Creators
Edit
Story by
Art by
Cover by
Publishing History
Edit
First published as no 2981 in September 1996.
Inside front cover feature Wheels of War: Loyd Universal Carrier
Inside rear cover feature Air Day - Westland Sea King and Consolidated Catalina.
Ad blocker interference detected!
Wikia is a free-to-use site that makes money from advertising. We have a modified experience for viewers using ad blockers

Wikia is not accessible if you've made further modifications. Remove the custom ad blocker rule(s) and the page will load as expected.