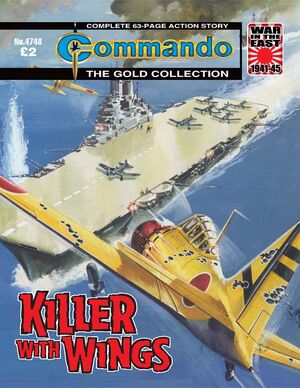 Back Cover Summary
Edit
Just imagine two brilliant fighter pilots flying off the same aircraft-carrier, hating each other more than they hated the enemy.
Just imagine them being dumped on a desert island with one fighter plane between them, and being told to get on with the war.
Just imagine what a feud that was.
Creators
Edit
Story by - Stainton
Art by - Ford 
Cover by - Ken Barr 
Publishing History
Edit
First published as no 103 in February 1964. Republished as no 607 in December 1971. Latest edition printed as no 4748 in October 2014.
Part of "The Gold Collection".
Ad blocker interference detected!
Wikia is a free-to-use site that makes money from advertising. We have a modified experience for viewers using ad blockers

Wikia is not accessible if you've made further modifications. Remove the custom ad blocker rule(s) and the page will load as expected.