Back Cover Summary
Edit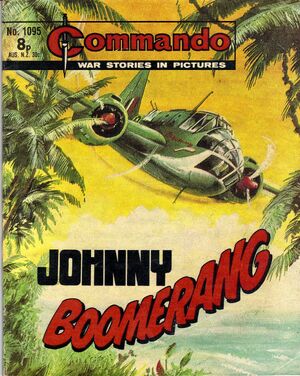 To a Japanese naval crew there was no more terrifying sight than a Bristol Beaufort torpedo-bomber attacking at wave-top height, a deadly torpedo just dropping from the plane's belly. And if the Beaufort had a boomerang painted on its nose, the Japanese were in deep trouble…
For the pilot was Johnny Boomerang, and Johnny never missed!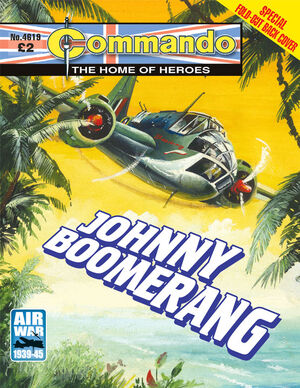 Creators
Edit
Story by McOwan
Art by Repetto
Cover by Sanfeliz
Publishing History
Edit
First published as no 360 in October 1968. Republished as no 1095 in January 1977. Latest edition published as no 4619 in July 2013.
Working title of story was "Torpedo Run" before changed.
One of only five Repetto Commando titles.
Part of "By Special Request" 2013 series. No 1095
Inside front cover feature - What Do You Know? Commando Quiz no 13
Inside rear cover feature - Soccer Stars of the World - Berti Vogts -West Germany
No 4619 includes:
Special fold out back cover with textless Ian Kennedy cover
Into Action feature featuring the Bristol Beaufort Mk1
Part 55 of the Commando File - January - June 2013.