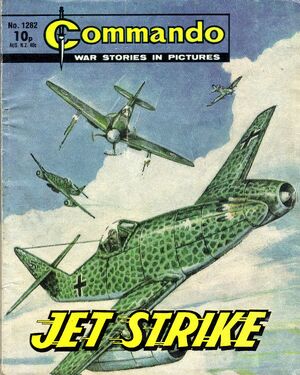 Back Cover Summary
Edit
Even though Sergeant Pilot Joe Cooper was in a front-line Spitfire squadron, in the thick of the fighting day after day, he still couldn't score a kill. He began to think the other pilots suspected him of being a coward, deliberately staying out of the dogfights.
Then one day the officer he was flying with was shot down, and Joe reported that it had been one of the formidable new Me 262 jets which had got him.
When no one believed him, Joe knew there was only one answer. he had to find those jets on his own, and if he survived he had to see them destroyed. . .
Creators
Edit
Story by-
Art by - John Ridgway 
Cover by -
Publishing History
Edit
First published as no 1282 in December 1978.
Inside cover feature - Stars of Formula One - Ricardo Patrese
Back cover feature - Stars of Soccer - Graeme Oates
Ad blocker interference detected!
Wikia is a free-to-use site that makes money from advertising. We have a modified experience for viewers using ad blockers

Wikia is not accessible if you've made further modifications. Remove the custom ad blocker rule(s) and the page will load as expected.