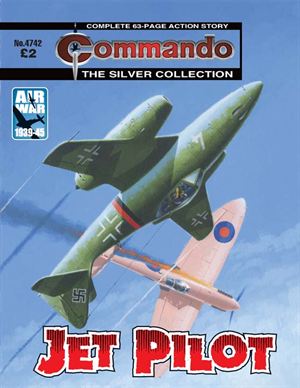 Back Cover Summary
Edit
The photo-reconnaissance Spitfire flew so high and so fast, that it was considered safe from German fighters. Except, that is, when the enemy was an Me262 jet piloted by Max von Mellenburg.
Max had flown Luftwaffe planes over Britain and Russia with deadly success. Now he was preparing to defend the skies of his homeland as the Allies closed in for the final battle.
Creators
Edit
Publishing History
Edit
First Published as no 2236 in March 1989, republished as no 3787 in February 2005. Latest edition published as no 4742 in September 2014.
Part of "The Silver Collection"
Ad blocker interference detected!
Wikia is a free-to-use site that makes money from advertising. We have a modified experience for viewers using ad blockers

Wikia is not accessible if you've made further modifications. Remove the custom ad blocker rule(s) and the page will load as expected.