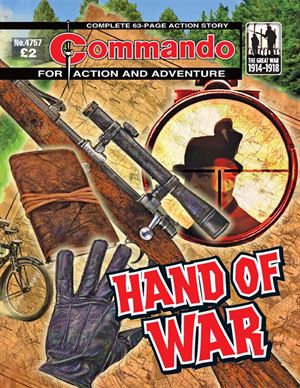 Back Cover Summary
Edit
After a year in India surveying railway routes, Royal Engineer lieutenants Tom Faraday and Freddy Chillingdon reckoned a hiking holiday in the country round Salzburg would be just the thing to break their journey home.
But this was 1914 and the whole area was alive with plot and counter-plot. Little wonder, then, that helping a stranger being attacked would lead them into the grasp of the…
HAND OF WAR
Creators
Edit
Story by - Alan Hebden
Art by - Jaume Forns 
Cover by - Janek Matysiak
Publishing History
Edit
First published as no 4757 in November 2014.
A great war story but not part of the commissioned Great War series.
Ad blocker interference detected!
Wikia is a free-to-use site that makes money from advertising. We have a modified experience for viewers using ad blockers

Wikia is not accessible if you've made further modifications. Remove the custom ad blocker rule(s) and the page will load as expected.