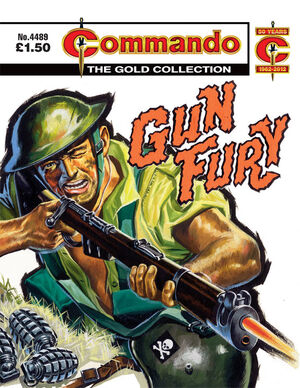 Back Cover Summary
Edit
Red is the colour of courage. Like the ribbon of the Victoria Cross; like the blood that heroes spill; like the famous Red Beret of the Parachute Regiment, whose amazing story this is.
Meet in these pages Cobber Kane, tough, wise-cracking Australian; Sergeant. Jim Parker, steady as a rock; "Blood 'n' Guts" Sanders, the hard-bitten RSM, whose one aim in battle was a VC to pin next to his MM…the kind of heroes who have made the Red Beret the badge of courage it is.
Creators
Edit
Publishing History
Edit
Published May 1962 as issue 24. Republished April 2012 as issue 4489
Part of "The Gold Collection" series.
Ad blocker interference detected!
Wikia is a free-to-use site that makes money from advertising. We have a modified experience for viewers using ad blockers

Wikia is not accessible if you've made further modifications. Remove the custom ad blocker rule(s) and the page will load as expected.