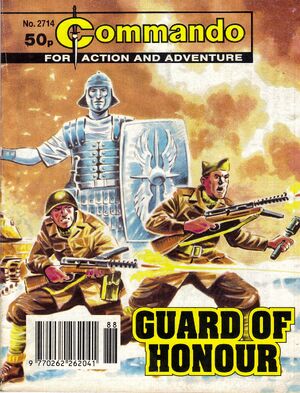 Back Cover Summary
Edit
How did a pair of the biggest jokers in the Italian Army come to be a part of a General's bodyguard, a job reserved for only the best, bravest and most loyal soldiers?
Two years of bitter fighting on the Russian Front had shown that for all their high spirits, these two were true descendants of Roman warriors.
And that wasn't the only surprise that fate had in store for them . . .
Publishing History
Edit
First published as no 2714 in November 1993.
Inside front cover feature - Flypast no.108 Northrop N-3PB. Art by Ian Kennedy.
Inside rear cover feature - Pistols of the World no.12 .455 Webley and Scott
Ad blocker interference detected!
Wikia is a free-to-use site that makes money from advertising. We have a modified experience for viewers using ad blockers

Wikia is not accessible if you've made further modifications. Remove the custom ad blocker rule(s) and the page will load as expected.