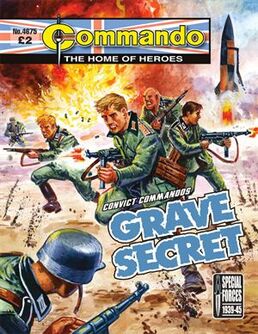 Private Titch Mooney, the Convict Commandos' man-mountain - ex-circus strongman and ferocious fighter - had no problem destroying a V2 rocket site in the face of a hail of lead fired by vengeful Germans as flames licked about his heels. But this solid granite character began to shake as he, Guy Tenby, Smiler Dawson, and Spider Mackay made their way through a Dutch graveyard. Was it superstition or was there a grave secret hidden there?
Story by Alan Hebden. Art and Cover by Benet.
Printed February 2013 as issue 4675.
Ad blocker interference detected!
Wikia is a free-to-use site that makes money from advertising. We have a modified experience for viewers using ad blockers

Wikia is not accessible if you've made further modifications. Remove the custom ad blocker rule(s) and the page will load as expected.