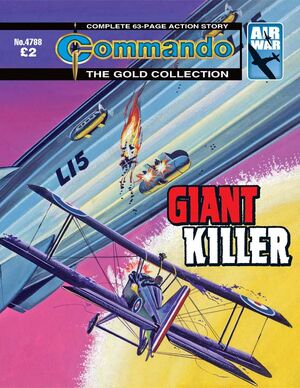 Back Cover Summary
Edit
It was a blood-feud in the skies - a fight that began in the First World War between a British ace in a string-bag of a plane and the commander of a huge German Zeppelin… It had to be settled in World War II by their sons; sleek Spitfire pitted against merciless Messerschmitt 109, their guns chattering a song of death.
Story by Brunt
Art by Peter Ford
Cover by Ken Barr
Publishing History
Edit
First published as no 153 in February 1965. Republished as no 771 in September 1973. Latest edition published as no 4788 in February 2015.
Part of "The Gold Collection".
Ad blocker interference detected!
Wikia is a free-to-use site that makes money from advertising. We have a modified experience for viewers using ad blockers

Wikia is not accessible if you've made further modifications. Remove the custom ad blocker rule(s) and the page will load as expected.