Back Cover Summary
Edit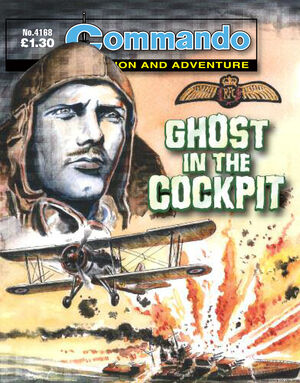 Tony Riley was born to fly. Both his father and his uncle had been pilots in the First World War, so it was only natural that Tony should want to be a pilot in 1939.But not even that heritage or all the training or his ability was to prepare Tony for what lay ahead - the feeling that a ghost was flying by his side in the cockpit...
Story by Bernard Gregg
Art and cover by Ibanez
Publishing History
Edit
First published as no 2591 in August 1992. Latest edition published as no 4168 in January 2009.
Inside front cover feature Part 46 (July - December 2008) of The Commando File. Inside rear cover Flying School Training aircraft through the ages: MiG 21UT1 Mongol.
Ad blocker interference detected!
Wikia is a free-to-use site that makes money from advertising. We have a modified experience for viewers using ad blockers

Wikia is not accessible if you've made further modifications. Remove the custom ad blocker rule(s) and the page will load as expected.