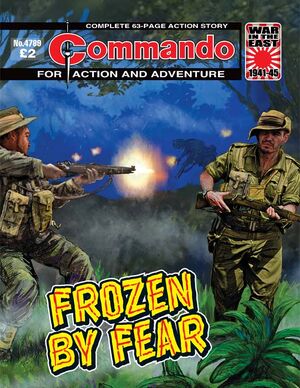 Back Cover Summary
Edit
Most jungle firefights are fought over short range and are over in a few minutes. Vision is limited and snap shots at targets are the order of the day.
Australian Army Corporal Jerry Warner was caught up in one such skirmish. With night falling and his life in jeopardy, he blazed away, knocking down attacker after attacker. Then he was blown unconscious by a mortar blast.
He survived but that night continued to haunt him - and he couldn't work out why!
Story by Ferg Handley
Art by Rezzonico
Cover by Janek Matysiak
Publishing History
Edit
First published as no 4789 in February 2015.
Inside front cover feature - War Bikes - Part 8 Zundapp KS750 (Germany 1940-44) Art by Gordon Livingstone
Ad blocker interference detected!
Wikia is a free-to-use site that makes money from advertising. We have a modified experience for viewers using ad blockers

Wikia is not accessible if you've made further modifications. Remove the custom ad blocker rule(s) and the page will load as expected.