Back Cover Summary
Edit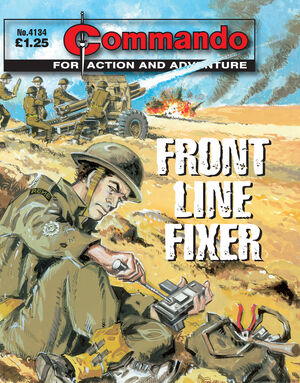 To repair and maintain the vital equipment which keeps an army in action calls for a very special skill. To do it under heavy enemy fire calls for bags of courage and a cool, cool nerve.
Jonathan Weeton of the Royal Electrical and Mechanical Engineers had these qualities - and more. He was a credit to the British Army, this sure-fingered genius who had been born in Germany!
Story by Ian Clark
Art and cover by Gordon Livingstone
Publishing History
Edit
First published as no 2522 in November 1991. Latest edition published as no 4134 in September 2008.