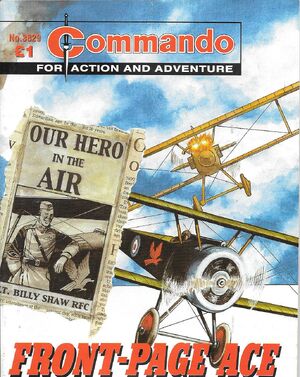 Back Cover Summary
Edit
World War One... Billy Shaw of the Royal Flying Corps was a national hero, his morale-boosting exploits against German pilots making headline news.
But Billy knew he was no better than any of his fellow airmen, and that it was only good fortune that was keeping him in one piece. He also realised that he'd need all the luck going if he was to live up to his reputation as a front-page ace!
Publishing History
Edit
First published as no 3829 in July 2005.
Inside front cover feature - The First Tanks - British Mark A Whippet
Inside rear cover feature - The Commando file part 39 - 2004.
Ad blocker interference detected!
Wikia is a free-to-use site that makes money from advertising. We have a modified experience for viewers using ad blockers

Wikia is not accessible if you've made further modifications. Remove the custom ad blocker rule(s) and the page will load as expected.