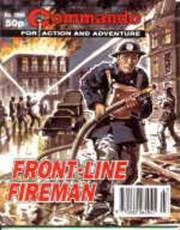 Back Cover Summary
Edit
In the Autumn of 1940, Hitler turned the full might of his armada on the civilian population of London. Night after night, bombs rained down on houses, factories and shops. In those desperate days, young Dave Ross of the Auxiliary Fire Service found out what it was like in the front-line of the war against Nazi Germany.
Creators
Edit
Story by ?
Art and cover by Gordon Livingstone
Publishing History
Edit
First published as no 2865 in June 1995.
Ad blocker interference detected!
Wikia is a free-to-use site that makes money from advertising. We have a modified experience for viewers using ad blockers

Wikia is not accessible if you've made further modifications. Remove the custom ad blocker rule(s) and the page will load as expected.