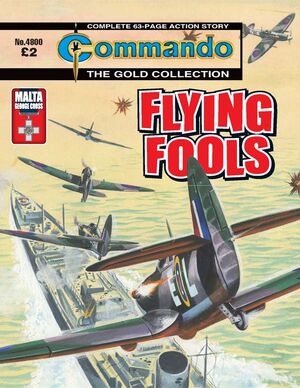 Back Cover Summary
Edit
Flight Lieutenant Roy Ogden was a pilot who fought and flew strictly by the book. He had a neat, tidy squadron that fought neat, tidy air battles and got quite good results…quite good.
Then a big Texan pilot called Mike McClusky arrived on the scene; a daring, slap-happy flier who roared, "Get in and mix it, boys!" across his radio. Suddenly the results were terrific.
That was when Roy's neat, tidy squadron changed into a bunch of…
Flying Fools!
Creators
Edit
Art by Sostres
Cover by Ken Barr
Publishing History
Edit
First Published in September 1965 as no 180, republished as no 819 in March 1974. Latest edition published as 4800 in April 2015.
Part of "The Gold Collection"