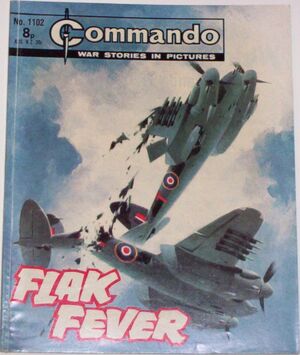 Back Cover Summary
Edit
Fliegerabwehrkanone - a German mouthful that was shortened to 'Flak', a word dreaded by every Allied pilot. It stood for anti-aircraft guns, those multi-barrelled cannon and deadly 88-millimetre guns that could blast attackers out of the sky. Every important target in Nazi Europe bristled with them. Mosquito pilot Terry Franklin had met his fair share of flak and it terrified him. Yet here he was in a new squadron whose job was to attack only the most difficult targets!
Story by R. A. Montague
Art by Gordon Livingstone
Cover by Ian Kennedy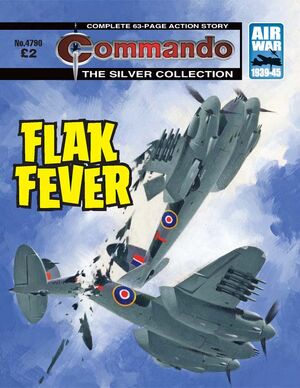 Publishing History
Edit
First published in February 1977 as issue 1102. Republished December 1990 as issue 2428. Latest edition published as no 4790 in February 2015.
No. 4790:
Part of "The Silver Collection" series.
Also published in the Heroes Fly High! collection.
References
Edit
Ad blocker interference detected!
Wikia is a free-to-use site that makes money from advertising. We have a modified experience for viewers using ad blockers

Wikia is not accessible if you've made further modifications. Remove the custom ad blocker rule(s) and the page will load as expected.