Back Cover Summary
Edit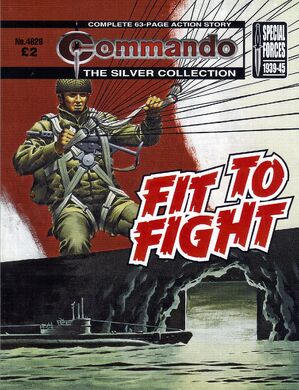 Massive doors set in a cliff face. Enemy submarines slinking in at night to their hidden lair... and slinking out again before dawn to go about their deadly business.
This base could not be bombed or shelled, but it had to be destroyed... and the man to do it was a soldier sent home from the desert with wounds that had made him "unfit for duty".
Story by R.A. Montague
Art by Elias
Cover by Ian Kennedy
Publishing History
Edit
First published as no 1065 in September 1976. Republished as no 2379 in June 1990. Latest edition published as no 4826 in July 2015.
Part of "The Silver Collection" series.
Ad blocker interference detected!
Wikia is a free-to-use site that makes money from advertising. We have a modified experience for viewers using ad blockers

Wikia is not accessible if you've made further modifications. Remove the custom ad blocker rule(s) and the page will load as expected.