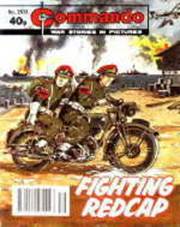 Back Cover Summary
Edit
Cecil Fowler didn't think that his first name was one a policeman could be proud of - especially a Military Policeman. "Cecil" didn't suggest the courage and cool nerve a Redcap needed, yet Cecil's duties were at the front-line… where the red cap cover of the Military Police was usually to be found at the most strategic points - where enemy fire was thickest!
Creators
Edit
Story by ?
Art and cover by Gordon Livingstone
Publishing History
Edit
First published as no 2513 in October 1991. Latest edition published as no 4141 in October 2008.
Ad blocker interference detected!
Wikia is a free-to-use site that makes money from advertising. We have a modified experience for viewers using ad blockers

Wikia is not accessible if you've made further modifications. Remove the custom ad blocker rule(s) and the page will load as expected.