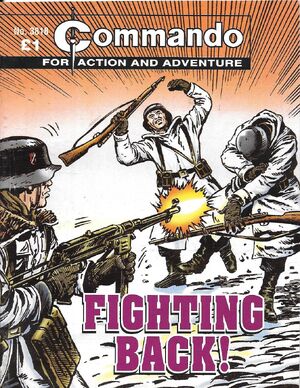 Back Cover Summary
Edit
When the Nazis marched into the tiny country of Latvia in 1941, and threw out the hated Russian army, they were hailed as liberators and heroes. Young Nikko Ullmanis was so impressed that he even joined the S.S.
But the Germans turned out to be even bigger tyrants and oppressors, and one fateful day, Nikko decided he had had enough - it was time to fight back!
Publishing History
Edit
First published as no 3818 in May 2005.
Inside front cover feature Fly Past - Grummadn C-2 "Greyhound" (Art by Ian Kennedy)
Ad blocker interference detected!
Wikia is a free-to-use site that makes money from advertising. We have a modified experience for viewers using ad blockers

Wikia is not accessible if you've made further modifications. Remove the custom ad blocker rule(s) and the page will load as expected.