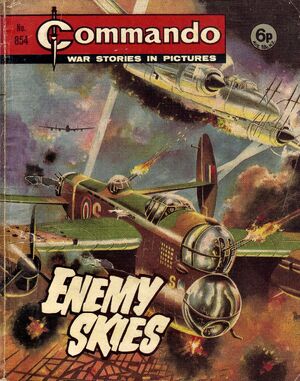 Back Cover Summary
Edit
Every night the mighty Lancasters of R.A.F Bomber Command made the sky tremble over the Nazi fatherland. Every night they struck hammer-blows at the heart of the Third Reich, dropping loads of fire and destruction from twenty thousand feet - nearly four miles above the earth.
But then came the time when they were ordered to go in low, and in daylight! They had no protection but their own guns, no safety but their speed and the skill of their pilots.
It was worse than dangerous. It was suicide. But it was an order . . .
Story by
Art by
Cover by L. C. Lucas
Publishing History
Edit
First published as no 854 in July 1974. Republished as no 2139 in December 1987.
No 854: Inside front cover feature - The Great Athletes - Rod Milburn Inside rear cover feature - Kings of Cricket - Glenn Turner