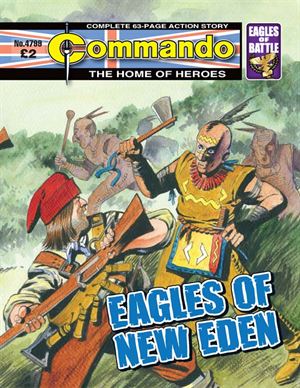 Back Cover Summary
Edit
After the tumultuous events of the English Civil War, Sergeant Samuel Carrick and his fellow Roundhead soldiers were victorious but disillusioned. So disillusioned, that they sailed away to start new lives in the far-off Americas.
The idyllic farming colony they established was christened New Eden. Here they worked hard and lived peacefully off the fruits of their labours.
This peace was shattered when enemies old and new stood against them. It seemed Samuel and his comrades would have to fight for their lives once more…
Creators
Edit
Art and cover by Keith Page
Publishing History
Edit
First Published in April 2015 as no 4799.
Part of "Eagles in Battle" series.
Ad blocker interference detected!
Wikia is a free-to-use site that makes money from advertising. We have a modified experience for viewers using ad blockers

Wikia is not accessible if you've made further modifications. Remove the custom ad blocker rule(s) and the page will load as expected.