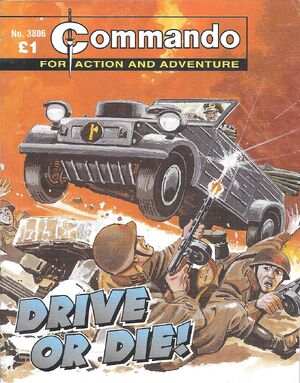 Back Cover Summary
Edit
It was meant as a birthday present for wartime Italian leader, Benito Mussolini. So how then did a specially-built, bullet proof, German kubelwagen end up on the Yorkshire moors in the garage of Steve Lambert?
From the battlefields of Germany to the war-torn countryside of Italy, from the Kremlin square in Moscow to the rubble-strewn streets of Warsaw in Poland, the car somehow appeared wherever the action was the fiercest - and every man who sat behind the wheel found he had to drive or die!
Story by ?
Art by ?
Cover by ?
Publishing History
Edit
First published as no 3806 in April 2005.
Inside front cover feature - Fly Past - Shorts Sky Van 3M (Art by Ian Kennedy) Inside rear cover feature - Tank Killers of the Second World War - Panzerschreck (Art by Gordon Livingstone)
Ad blocker interference detected!
Wikia is a free-to-use site that makes money from advertising. We have a modified experience for viewers using ad blockers

Wikia is not accessible if you've made further modifications. Remove the custom ad blocker rule(s) and the page will load as expected.