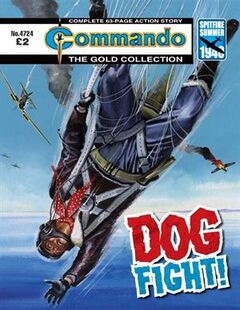 Back Cover Summary
Edit
"Tally-Ho! Bandits!" That was the battle-cry of the British fighter pilot - the words the hunters in Spitfires shouted over their radio telephones when they had spotted German raiders.
That famous battle-cry meant that a dogfight was only a couple of heart beats away - and there was glory and medals to be won…and death to be faced.
"Tally-Ho! Bandits!"
Story by Kellie, Art by Sostres Cover by Ken Barr
Publishing History
Edit
First Published originally as No 110 in March 1964, reprinted No 627 in March 1972. This edition as No 4724 July 2014.
Third part of the "Gold Collection" series
Ad blocker interference detected!
Wikia is a free-to-use site that makes money from advertising. We have a modified experience for viewers using ad blockers

Wikia is not accessible if you've made further modifications. Remove the custom ad blocker rule(s) and the page will load as expected.