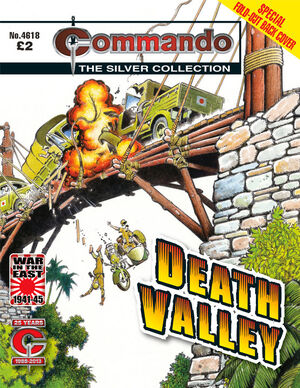 Back Cover Summary
Edit
DEATH VALLEY
…that was the name the Burmese villagers gave to the precarious, sheer-sided gorge which had claimed so many lives.
And the arrogant Japanese who had invaded their land were soon to get a nasty surprise, courtesy of a British sabotage team, which would make them call it that too!
Creators
Edit
Story by Allan Chalmers
Art by Ibanez
Cover by Jeff Bevan
Publishing History
Edit
First published as no 2215 in September 1988. Republished as no 3699 in March 2004. Latest edition published as no 4618 in July 2013.
Part of "The Silver Collection".
No 4618 includes:
Special fold out back cover with textless Jeff Bevan cover
Into Action feature featuring the Japanese Soldier