Back Cover Summary
Edit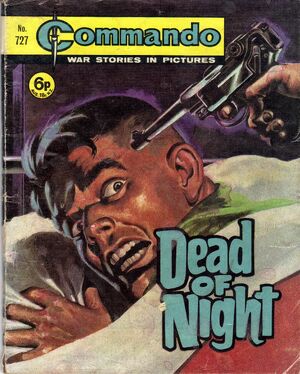 Before he joined the RAF, Tim "Whirlwind" Wade was Britain's ace racing driver. Positively unbeatable, he was Stirling Moss and Jim Clark rolled into one.
When he became the deadly air gunner in a super-fast Boston bomber, it seemed that even in war his life was to be dedicated to speed.
Who would have believed that such a man had one great fear in his life - a fear of speed! A fear that was to make him a hero…
Main Characters
Edit
Tim Wade
Johnny Dobson
Don Fenton
Rolf (Nowegian Resistance)
SS Colonel Strassman "The Butcher"
Creators
Edit
Publishing History
Edit
First published as no 141 in November 1964, reprinted as no 727 in March 1973. Latest printing as no 4756 in November 2014.
No 727
Inside front cover feature - Stars of Soccer - Jon Sammels
Inside rear cover feature - Power - Speed - Class! No 1 Bentley 4 1/2 litre
No 4756
Part of "The Gold Collection"
Ad blocker interference detected!
Wikia is a free-to-use site that makes money from advertising. We have a modified experience for viewers using ad blockers

Wikia is not accessible if you've made further modifications. Remove the custom ad blocker rule(s) and the page will load as expected.