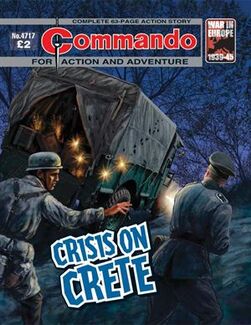 Back Cover Summary
Edit
Private Dan Vaughn was a bit of a layabout. He didn't particularly like soldiering and his mate, Private Ian Hicks, was constantly nagging at him to make an effort.
On Crete in 1941, they had a simple task, to transport some ammo in a Bedford truck. But -after an encounter with a low-flying enemy glider - Dan found himself in the middle of a battle, one involving Cretan partisans, crack German paratroopers and the SS.
Lying about was no longer an option if Dan wanted to stay alive!
Story by - Kris Roberts
Art by - Vila
Cover by - Janek Matysiak
Publishing History
Edit
First published as no 4717 in June 2014.
Ad blocker interference detected!
Wikia is a free-to-use site that makes money from advertising. We have a modified experience for viewers using ad blockers

Wikia is not accessible if you've made further modifications. Remove the custom ad blocker rule(s) and the page will load as expected.