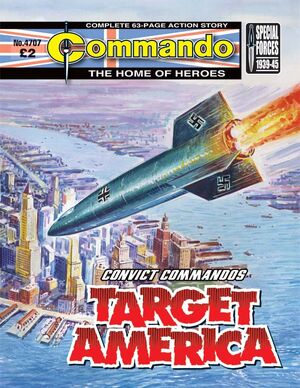 Back Cover Summary
Edit
Corporal "Spider" Mackay, the Convict Commandos' replacement safe-cracker could be a handy man in a fight. Fearless and with a ruthless streak that struck fear into his enemies, he had yet to be bested.
This time, though, he'd been too hasty in his pursuit of a scrap and had got himself trapped in an intercontinental rocket with a monster high-explosive warhead under his seat. And in case you hadn't guessed, the rocket's target was America.
Was there any way out for Spider?
Creators
Edit
Story by - Alan Hebden
Art and cover by - Manuel Benet 
Publishing History
Edit
First published as no 4707 in May 2014.
Part of the Convict Commandos Saga.
Ad blocker interference detected!
Wikia is a free-to-use site that makes money from advertising. We have a modified experience for viewers using ad blockers

Wikia is not accessible if you've made further modifications. Remove the custom ad blocker rule(s) and the page will load as expected.