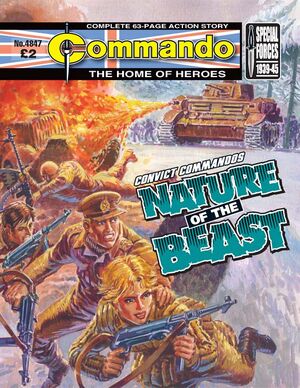 Back Cover Summary
Edit
The Convict Commandos had been on many dangerous missions as the War raged on. Now it looked as if their latest adventure could turn out to be their last.
'Jelly' Jakes wasn't just an expert safecracker - he was an expert coward too! The quivering little man had become a vital part of a scheme to halt an insidious enemy threat - one that could undermine the Allies' efforts to win the War. Jelly and the rest of the team would have to uncover
THE NATURE OF THE BEAST
Story by Alan Hebden
Art and cover by Manuel Benet
Publishing History
Edit
First published as no 4847 in September 2015.
Part of the Convict Commandos series. Inside front cover feature - Light Vehicles - Gaz 69 (USSR)

Ad blocker interference detected!
Wikia is a free-to-use site that makes money from advertising. We have a modified experience for viewers using ad blockers

Wikia is not accessible if you've made further modifications. Remove the custom ad blocker rule(s) and the page will load as expected.