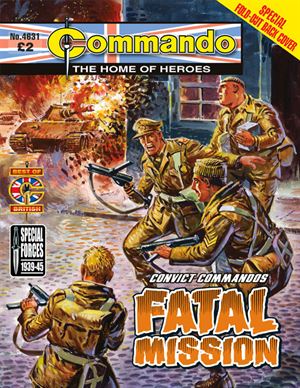 Back Cover Summary
Edit
Luck had been with the Convict Commandos since they had escaped from the Japanese in 1942. They had carried out the most perilous of missions with little more than bumps and bruises to show for it.
But luck has a habit of changing suddenly, especially when it is pushed, and it certainly changed for the Convict Commandos as they flew to their next target. They had passed through dangerous skies before, but none quite as dangerous as those over Arnhem.
Story by Alan Hebden
Art and Cover by Benet
Publishing History
Edit
First Published September 2013
Ad blocker interference detected!
Wikia is a free-to-use site that makes money from advertising. We have a modified experience for viewers using ad blockers

Wikia is not accessible if you've made further modifications. Remove the custom ad blocker rule(s) and the page will load as expected.