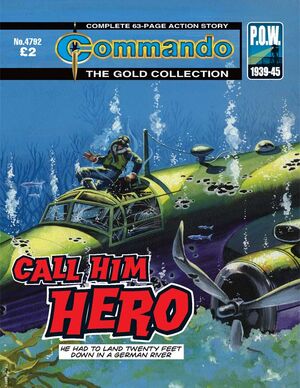 Back Cover Summary
Edit
Look how young Sergeant-pilot Jack Sherwood left a Nazi prison camp - on the end of a home-made, twelve-foot vaulting pole!
And this is only one of a hair-raising series of close shaves Jack survives in this great yarn. Sprinter, weight-lifter, jumper and vaulter, this crack user athlete has to pull out he knows before he gets clear of the Germans to fly - and fight - again.
Story by Tyson
Art by Medrano
Cover by Ken Barr
Publishing History
Edit
First published as no 186 in October 1965. Republished as no 815 in February 1974. Latest edition published as no 4792 in March 2015.
Part of "The Gold Collection".
Ad blocker interference detected!
Wikia is a free-to-use site that makes money from advertising. We have a modified experience for viewers using ad blockers

Wikia is not accessible if you've made further modifications. Remove the custom ad blocker rule(s) and the page will load as expected.