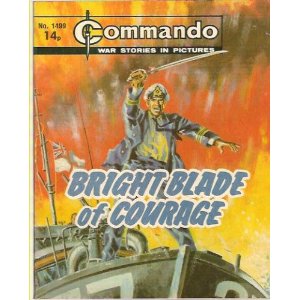 Back Cover Summary
Edit
It was an eighteenth century cutlass, famous throughout the Royal Navy. Legend said that if it ever fell into enemy hands Britain would be in real trouble. and in 1942[2] the worst happened - the cutlass found it's way aboard a German battle cruiser, the dreaded Grosslander! Commander John Warden decided to risk everything to get it back, for he was the great-grandson of the man who had first taken that blade into battle!
Story by -
Art and cover by - Gordon Livingstone
Publishing History
Edit
First published as no 535 in March 1971. Republished as no 1499 in April 1981.
Included in True Brit and True Grit.
References
Edit
↑

Actually 1940
Ad blocker interference detected!
Wikia is a free-to-use site that makes money from advertising. We have a modified experience for viewers using ad blockers

Wikia is not accessible if you've made further modifications. Remove the custom ad blocker rule(s) and the page will load as expected.