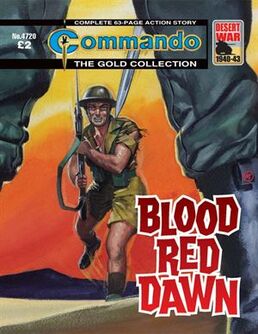 Back Cover Summary
Edit
What kind of a man would sell his own comrades to the enemy? That was what Lieutenant Dick Woolston had to find out - and FAST, before any more Long Range Desert Group patrols were ambushed and murdered by the Nazis.
Someone within the group was betraying them at every turn - but who? Dick had been a plain-clothes man at Scotland Yard before the war. But never before had he had to get his man and fight a war at the same time.
Here is a different kind of a mystery story - with blood.
Story by - Burns
Art by - Cortes
Cover by - Ken Barr
Publishing History
Edit
First published as no 109 in March 1964. Reprinted as no 615 in January 1972. This edition published July 2014.
Part of "The Gold Collection" series.