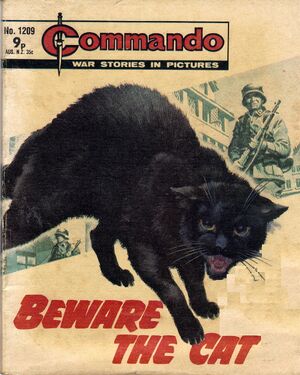 Back Cover Summary
Edit
Once Anton Knecht had been the Nazi's top assassin. He had eliminated many enemies of the Third Reich, his icy-cool nerve never allowing him to make a mistake. But then strange, terrible nightmares began wrecking his sleep and the mere glimpse of a black cat sent him into a state of quivering terror.
What had caused this sudden change? Was it the strain of all those killings catching up with him at last? Or was it something more sinister. . . ?
Story by
Art by
Cover by Ian Kennedy
Publishing History
Edit
First published as no 1209 in March 1978.
Inside front cover feature - Motor-cycle stars -Joe Hughes Inside rear cover feature - Stars of Soccer - Leighton Phillips
Ad blocker interference detected!
Wikia is a free-to-use site that makes money from advertising. We have a modified experience for viewers using ad blockers

Wikia is not accessible if you've made further modifications. Remove the custom ad blocker rule(s) and the page will load as expected.