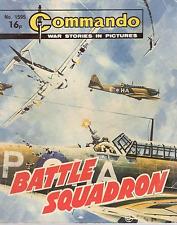 Back cover Summary
Edit
Before the war Mike Stallard had fought as a pilot in China, Spain and South America. He hired his skills to the highest bidder and always ended up where the dogfights were the fiercest.
Then he went to France with the R.A.F., fighting strictly to order in clumsy Fairey Battles against sleek, deadly Me 109s. And unless the Top Brass listened to men like Mike and let them fight in their own way, this was going to be the last war that he and his mates would ever fly in.
Art by ?
Story by ?
Cover by ?
Publishing History
Edit
Published as no 569 in July 1971. Republished in April 1982 as issue 1595
Issue 1595
Inside front cover: Stars of Motorcycling - Steve Parrish. Inside back cover: Stars of Golf - Tom Watson.
Ad blocker interference detected!
Wikia is a free-to-use site that makes money from advertising. We have a modified experience for viewers using ad blockers

Wikia is not accessible if you've made further modifications. Remove the custom ad blocker rule(s) and the page will load as expected.