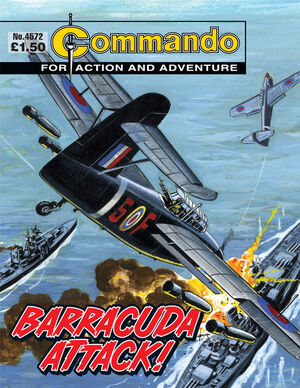 Back Cover Summary
Edit
At flying training school, they said Sub-Lieutenant Martin Archer wasn't good enough to be a fighter pilot. Too steady, they said, not quick enough to react. What they couldn't say was that he lacked nerve. And that was just as well because they gave him a Fairey Barracuda dive-bomber to fly into the teeth of flak and fighters.
That took guts of a different kind altogether.
Publishing History
Edit
First published as no 4572 in January 2013.
Ad blocker interference detected!
Wikia is a free-to-use site that makes money from advertising. We have a modified experience for viewers using ad blockers

Wikia is not accessible if you've made further modifications. Remove the custom ad blocker rule(s) and the page will load as expected.