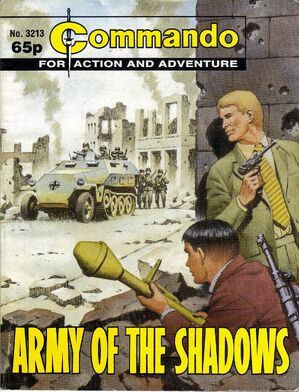 Back Cover Summary
Edit
When the Germans invaded Poland in 1939, the Polish army was overwhelmed and the air force smashed or forced to fly to a neutral country.
But many Poles never gave up - Warsaw, the capital city, finally became a battleground as men from the scattered forces joined civilians in a brave fight for freedom amongst the ruins.
In the face of Nazi power and ruthlessness, this army of the shadows had taken on a terrible task!
Creators
Edit
Story by ?
Art by Denis McLoughlin
Cover by Ian Kennedy
Publishing History
Edit
First published as no 3213 in February 1999.
Issue no 3213 includes:
Inside front cover feature Whirly Birds, Helicopters past and present, Sikorsky MH-60G Pave Hawk US 1975. (Ian Kennedy art)
Ad blocker interference detected!
Wikia is a free-to-use site that makes money from advertising. We have a modified experience for viewers using ad blockers

Wikia is not accessible if you've made further modifications. Remove the custom ad blocker rule(s) and the page will load as expected.