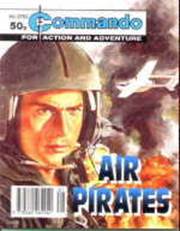 Back Cover Summary
Edit
Officially they were called Forward Air Controllers, but air pirates was nearer the mark. What else would you call pilots who sneaked about over the Vietnamese jungle tops, ambushing the enemy from the air then withdrawing before he had time to retaliate? Roy Armour was one of these men. He flew with a secret unit based in Laos. There, the dangers he faced got even worse when he landed!
Creators
Edit
Publishing History
Edit
First published as no 2753 in April 1994.
Ad blocker interference detected!
Wikia is a free-to-use site that makes money from advertising. We have a modified experience for viewers using ad blockers

Wikia is not accessible if you've made further modifications. Remove the custom ad blocker rule(s) and the page will load as expected.