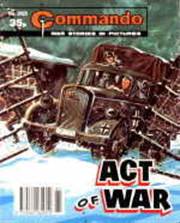 Back Cover Summary
Edit
Someone once said that all the world's a stage, and Rick Calder was quite happy to go through the war with a theatrical group, entertaining the troops behind the front-line. But the real war destroyed the make-believe world of the entertainers when they became prisoners of the Germans… and found themselves helping to produce a most devastating secret weapon which would bring Britain to its knees.
Creators
Edit
Story by ?
Art and cover by Gordon Livingstone
Publishing History
Edit
First published as no 2423 in November 1990.
Ad blocker interference detected!
Wikia is a free-to-use site that makes money from advertising. We have a modified experience for viewers using ad blockers

Wikia is not accessible if you've made further modifications. Remove the custom ad blocker rule(s) and the page will load as expected.