Back Cover Summary
Edit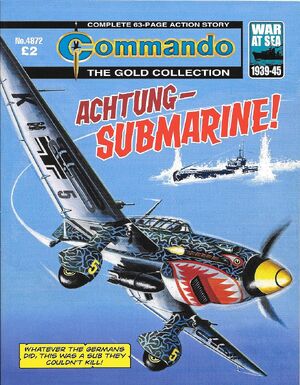 The submarine Arrowhead had taken a pounding. Leaking and helpless, the vessel couldn't even submerge into the safety of the depths.
Many a crew would have abandoned ship, but not Bob Mitchell and his men. They ran her into an enemy harbour to carry on the fight.
The sub was dead in the water but her crew weren't - and they would never surrender.
Publishing History
Edit
First published as no 182 in September 1965. Latest edition published as no 4872 in December 2015.
4872 published as part of the Gold Collection.
Ad blocker interference detected!
Wikia is a free-to-use site that makes money from advertising. We have a modified experience for viewers using ad blockers

Wikia is not accessible if you've made further modifications. Remove the custom ad blocker rule(s) and the page will load as expected.