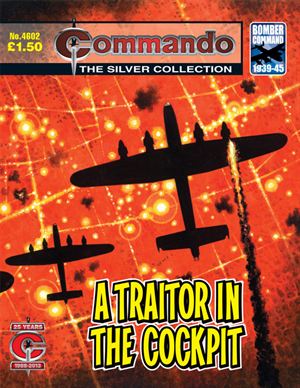 Back Cover Summary
Edit
The roar of four mighty Merlin engines powering each Lancaster, the crump of flak bursting close to the planes, the rumble of bombs exploding far below - it was all in a night's work for the bomber boys.
But for one Lanc crew, on one particular night, things were going to be different - because their pilot intended to land at an enemy airfield and hand his aircraft and its secret equipment over to the enemy.
Story by - Ken Gentry
Art by - Gordon Livingstone
Cover by - Jeff Bevan
Publishing History
Edit
First published as no 2199 in July 1988. Reprinted as 3675 in December 2003. Latest edition published as 4602 in May 2013.
Part of "The Silver Collection"
Ad blocker interference detected!
Wikia is a free-to-use site that makes money from advertising. We have a modified experience for viewers using ad blockers

Wikia is not accessible if you've made further modifications. Remove the custom ad blocker rule(s) and the page will load as expected.