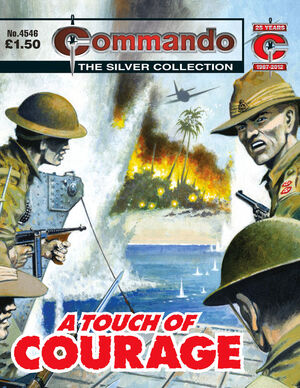 Back Cover Summary
Edit
Do you believe in magic? No? Well, Englishman Sam Benson wasn't too sure either. While out in Australia he saw an aboriginal ceremony where the natives touched a totem believing it would give them courage.
Little did he know that several months later, while fighting the Japanese on the far-off island of Ketta, that same ritual would save his life!
Publishing History
Edit
First published as no 2082 in April 1987. Republished as no 4546 in October 2012.
Part of "The Silver Collection" series.
Ad blocker interference detected!
Wikia is a free-to-use site that makes money from advertising. We have a modified experience for viewers using ad blockers

Wikia is not accessible if you've made further modifications. Remove the custom ad blocker rule(s) and the page will load as expected.