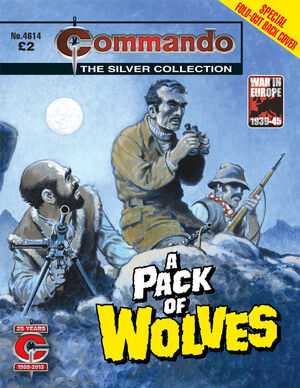 Back Cover Summary
Edit
The three men were part of a band of Italian bandits, a pack of wolves who roamed through the mountains to make a fat profit while their war-torn country crumbled about them. There were other similar groups in the area too, but this lot had by far the strangest leader of all…an eccentric history lecturer from England!
Creators
Edit
Story by Allan Chalmers
Art by Gordon Livingstone
Cover by Jeff Bevan
Publishing History
Edit
First published as no 2192 in June 1988. Latest edition published as no 4614 in June 2013.
Part of "The Silver Collection".
No 4614 includes:
Special fold out back cover with textless Jeff Bevan cover
Into Action feature featuring the Breda Model 30 light machine gun
Ad blocker interference detected!
Wikia is a free-to-use site that makes money from advertising. We have a modified experience for viewers using ad blockers

Wikia is not accessible if you've made further modifications. Remove the custom ad blocker rule(s) and the page will load as expected.